A Simply Amazing Opportunity for all Aspiring Medical Professionals in the USA & Canada!
Program Type: Residential Program for college and high school pre-health students
Venue (Primarily Hospital): Livingstone Central Hospital, Livingstone, Zambia
Classification: Shadow various specialties in medicine/surgery
Dates: June 10-24, 2023
Booking status: Registration NOW open (scroll down to register)
Eligibility: Aspiring Health or Medical Professionals who are currently pre-health (college and/or high school) students in the USA or Canada.
International applications are also accepted. A maximum of 15 students will be selected, to ensure effective mentoring.
Tuition Fee*: USD 2, 550.
Registration closing date: March 30, 2024
---
Program goals and objectives:
To log 40-60 medical/surgical shadowing hours.
To develop an understanding and appreciation of the host country's history and culture
To develop an understanding of the host country's medical education and practice
To understand the differences and similarities between the medical practice of the host country and the USA
To develop basic clinical skills, including critical thinking, taking key vitals, and bedside ethical skills
Note – students are not allowed to perform any medical/surgical procedures – as per AMA guidelines.
---
The Program includes 21 days of:
Daily 8 to 12-hours of shadowing of medical professionals with intensive medical mentoring.
Daily group reflections and written reports on the clinical activities of the day.
One-on-one evaluation and feedback on the competitiveness of the participants for professional schools.
Letters of recommendation.
Accommodation, breakfast, and lunch.
Visiting amazing tourist attractions (see proposed program schedule below).
Stay in Livingstone, home of the mighty Victoria Falls, one of the seven wonders of the world!
And: 
Experience a once-in-a-lifetime, unforgettable clinical shadowing experience in Zambia – a country rich in African wildlife, nature, and a diversity of cultures!
Shadow health professionals, doctors, and surgeons from various specialties at the Livingstone Central Hospital in Livingstone, Zambia.

See a wide range of African wildlife at the biggest game reserve in Zambia, Chaminuka Game Reserve.

Take the famous Zambezi River sunset cruise for a wildlife tour.
Stay in Livingstone, named after the famous Scottish explorer and is the tourist capital of Zambia and home to the mighty Victoria Falls.
---
Program Schedule: Clinical Shadowing Program – Livingstone, Zambia June 2023

Program Schedule Zambia, See less

June 10th – June 24, 2024, Schedule:
June 10: Students arrive in Livingstone, Zambia.
June 11: Clinical Orientation for the Program
June 12 through to Friday, June 19: Clinical Shadowing
Mainly at Livingstone Central Hospital
 DAILY CLINICAL SHADOWING SCHEDULE DURING THE WORKDAYS
07:00 a.m.:  Breakfast.
07:30 a.m.: Depart Lodge for clinical shadowing.
9:00 AM- 12:00 noon:  First phase of clinical shadowing.
02:00 p.m.: Case reports, reviews, and reflections.
6:00 p.m.- 10:00 p.m.: Nightly clinical shadowing.
Friday evening: Free
CLINICAL SHADOWING ENDS 19th at 12 noon
June 21
 Free day: Shopping, laundry, and movies
Weekend: Sunday, June 20
8:00 A.M.:  Safari tour: Mukuni Big 5 Safaris, Livingstone
Conveniently situated only 5 km from the Mighty Victoria Falls, Mukuni Big 5 Safaris is on the road to Chief Mukuni's Palace. The road is an all-weather road easily accessed all year round.
Mukuni Big 5 started in 2009 with Lion, cheetah walks and interaction, then expanded to include river cruises on the Zambezi river on board Lion King of the Victoria Falls.
With His Royal Highness Senior Chief Mukuni being one of the Directors, we also provide a unique cultural background. We have an unrivalled view from our reception of the Mosi oa Tunya, aka "The Smoke that Thunders" Zambezi River.
June 22 Meet Zambian families 1:00 PM:  Lunch, social and cultural activities:  Lunch and social activity with local Zambian families.
June 22th Visit the mighty Victoria Falls (See earlier comment on this)
An experience of a lifetime at the mighty Victoria Falls: The sheer might of the Victoria Falls will blow you away. But what's more, it's at the heart of one of Africa's most diverse and exciting regions.
June 23 – free day: Shopping, laundry, and movies
Whether you take a dawn helicopter flight over this natural wonder of the world or watch the moon rise over the old gorge, your experiences here are bound to be stirring and will involve spectacular scenery. Known in the Tonga language as Mosi-oa-Tunya ('the Smoke that Thunders'), due to its eternal roar and ever-present spray it was renamed by Scottish missionary and explorer David Livingstone, the first European to view the spectacle in 1855 (Source: Mana Meadows). Activities will include bungee jumping, lion encounter, micro flight, elephant riding, a sunset cruise over the Zambezi, and many more.
Jollyboys Backpackers Lodge: 34 Kanyanta Road, Livingstone, Zambia
Phone number: +260 97 8571100
Website: https://backpackzambia.com/
Backpackers & activity options:
Accommodation:
Dorm bed $12 ppn
Mixes dorm $18 ppn
Basic triple dorm $65
Private basic twin/double beds $50
Ensuite standard with A/C include mini b/fast $45
Activities:
Tour of the falls $30pp
Sunset boat cruise $65pp
Game drive in the Mosi_oa_tunya national park $65pp
Lion & cheetah walk $200pp
Lion walk $140pp
Cheetah walk $120pp
Fees:
Falls park fees $20pp
National park fees $10pp
Airport transfer to the hotel/ around Livingstone town $15pp
Hiring 7 seater mini bus with driver whole day 08:am_16:00pm within Livingstone $50
Safari in Botswana:
Chobe day trip $165pp
Chobe 1 day & 1 night $215
Chobe 2 days & 1nigh $265pp
Tuesday, June 20th: The program ends
Depart from Livingstone to the USA or your final destination.
---
Register now – don't delay – limited spaces. The registration deadline is March 30, 2024!
---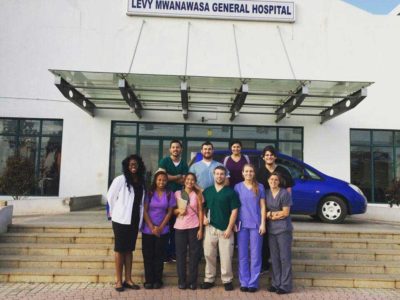 Attendees of previous Programs have a great time!
10 reasons why you should attend The Clinical Shadowing Program in Livingstone, Zambia in 2024:
Attend the Livingstone Central Hospital and get an unforgettable experience of healthcare and medicine in an African setting.
Shadow and rotate around various specialties in medicine (internal medicine, gynecology, obstetrics, radiology, various surgeons, dentists, nurses, medical students, etc.).
Get a solid foundation regarding sterility and hygiene in a healthcare setting and learn how to scrub for surgery.
Meet like-minded students and exchange ideas and information.
Get an international perspective on medicine and healthcare.
Experience the African bush and the amazing variety of wildlife it has to offer.
Three weeks of medical immersion is sure to impress any pre-medical program/medical school selection committee.
Visit historic places of interest – like the mighty Victoria Falls, Chaminuka Game Reserve, etc.
Become a competent global medical profession.
Add an Apprentice Doctor® certificate to your resume.
---
Why should you participate in a medical study program abroad?
"The shift of human affairs from the restricted frame of the nation-state to the vast theatre of planet earth is not only affecting trade, finance, science, the environment, crime, and terrorism; it is also changing the nature of health challenges facing people all over the world" Julio Frenk and Octavio Gomez-Dantes, BMJ. 2002 July 13; 325(7355): 95–97.
"Distinctions between domestic and international health problems are losing their usefulness and are often misleading." – US Institute of Medicine report 1997
Today's leaders were trained for yesterday's problems – Microsoft executive
---
Register now – registration close on March 30, 2024!
Dr. Anton Scheepers, a practicing Maxillofacial and Oral Surgeon, will lay a foundation with several workshops:
Sterility and hygiene in a healthcare setting
Scrub for surgery
Pulse Oximetry
Heart Sounds
---
Testimonials
My time in South Africa and Zambia has had a profound impact on my professional development. Both trips are often the first topics of conversation in interviews that I have conducted, it helps me stand out from the pack and has gotten me the opportunity to be a lab manager at Wake Forest Baptist Medical Center. I am also, currently in the process of applying to medical school. My time in Africa has taught me a great deal about medicine and helped me develop a worldwide view of healthcare. Additionally, I have made an immeasurable amount of long-lasting personal relationships. This vast network of friends and future colleagues could help to pave the way for multiple advancements in the field of science. My involvement in these trips has helped me grow and mature and has provided me with the greatest blessings in life. It's not often that you hear that about a clinical shadowing internship, but it is true. These programs helped me to develop a worldview and expanded my horizons and positioned me to become a global future leader. I don't know any two programs that better exemplify this vision.

Chirayu Patel, Research Technician, Wake Forest Medical Center
[collapse show="More testimonials…!" hide="Hide testimonials"]
The clinical shadowing trips to South Africa and Zambia were enriching experiences for those interested in the medical field. Having attended each of the trips, once as a pre-med student and again as a senior medical student, I feel that experiences from both viewpoints offered a great opportunity for learning as well as worldly reflection.  Three years later, as a fourth-year medical student, I was invited back to attend the Clinical Shadowing in Zambia trip as an adjunct instructor.  Not only did I feel my experience as a medical student was valuable to the students, but it was also a priceless experience for me. Being able to help teach the students and serve as part of their introduction to clinical medicine was greatly rewarding, but it also reminded me how far I'd come in my education. Not much earlier, I was once in their same shoes. Being able to assist in medical care, namely surgical procedures in Zambia was very exciting. I remain incredibly grateful for the opportunity to become integrated into the hospital's day-to-day activities. Yet again, my experience shed light on the differences in the American healthcare system versus Zambia's healthcare structure. As a current surgery resident, I take what I have witnessed in Zambia as a daily reminder of how much is taken for granted in the US healthcare system.

Having participated in the program twice, I have gathered different things from each time. I greatly wish that we had a medical student or physician attend my first trip. I continue to have mentoring relationships with many of the students from the Zambia trip, as well as some that I met briefly that attended the South Africa trip. Overall, the clinical shadowing program was an amazing experience, and I would jump at the opportunity to attend again in the future, if possible.

Cori Rogers, Medical Resident, Plastic and Reconstructive Surgery, Indiana University-Purdue University, Indianapolis, Indiana
Studying abroad in South Africa allowed me to expand my education and begin developing a globally minded outlook. Being across the world for several weeks demanded mature qualities – no longer could I count on my parents for the little things!
Having an interest in medicine, I was immediately fascinated by the cultural differences between the United States and South Africa relating to health care. The exposure to these unique conditions drove my passion to pursue a career in medicine even more. One clear takeaway from this experience was the motive to enter a career in medicine. Too often in Western civilization, many physicians pursue medicine for the wrong reasons. The experience in South Africa reinforced the concept of caring for individuals without a financial motive. That, I have discovered, is what truly drives my passion to serve in medicine.
Without this incredible opportunity, I would have lacked the motivation it takes to get accepted and complete medical school. Because of this experience, I know I must improve my quality of life and make a difference for those who are in need. Before this trip, working in the medical field was merely an aspiration – now it is my calling, my passion, and my future.

J. Tyler Ramsey, Postbaccalaureate IRTA Fellow, National Institute of Environmental Health Sciences
This program provides a once-in-a-lifetime experience. The trip opened my eyes up to a world unknown to most of my peers. Since this trip, I have traveled to over 14 different countries, mostly developing, and it spurred a passion for rural primary care and understanding people despite race, creed, culture, or religion. The memories, the lessons learned, the patients met, and the part of my heart that will always be filled with this African culture could only come from a program like this one. I begin Physician Assistantship school this upcoming January. If it were not for this trip, I would not be the man I am today.

Nicholas Austin, 1st year, Physician Assistant Student
[/collapse]
---
Pursuing a career in health/medicine is demanding and the selection process is highly competitive. If you are sold out on becoming a great medical professional – you cannot afford to miss this opportunity for anything!
Register now – registration close on March 30, 2024!
---
The Registration and Selection Process:
Register and submit the letter of recommendation.
Your application will be screened based on eligibility (college student from North America) and a letter of recommendation.
We will then get back to you within 24 hours to inform you whether your application has gone through or not.
If you are accepted, you need to pay the deposit within 24 hours of your acceptance to secure a spot.
The balance should be paid by April 1, 2024
Registered applicants will receive invoices for the tuition fee from Apprentice Corporation for an amount totaling $4550 (USD)
---
---
Settle the registration fee – payable on receiving the invoice ($250)
Settle the program fee due April 1, 2024 ($2250)
---
Looking forward to seeing you there!
Prof Chishimba Nathan Mowa, Dr. Anton Scheepers, and the Apprentice Doctor Team
In association with the Livingstone Central, Zambia.
---
Download your Study Abroad Handbook: Click Here